Is a Glass Canopy a Wise Investment?
When it comes to our business, how our premises look can play an integral part of how our business operates. People in the modern age are more swayed by the aesthetics of a business, which can explain as to why many businesses at least consider the installation of a glass canopy. However, business owners find that there are a number of benefits to installing a glass canopy, and it isn't just down to the overall aesthetics it offers a business.
A Glass Canopy is Easy-to-Clean
As already pointed out, the way a business presents itself can have a lasting effect on how many customers visit the business. As such, many business owners have a cleanliness at the top of their agenda when it comes to the running of their business, and as such, want to ensure that an easy-to-clean solution is in place. A stainless steel glass entrance canopy not only looks the part, but it is very easy to clean. What's more a glass canopy is not susceptible to dirt like fabric counterparts are. As a result, business owners can have an eye-catching solution to the canopy needs, without worrying that the entrance canopy is absorbing a vast amount of grime and dirt over time.
Glass Canopies are Robust
It would be easy to assume that the use of glass could be risky in a business, but the opposite is true. Glass is actually very durable and long-lasting, with the structures themselves are very robust even under immense weather conditions. What's more, the use of a glass canopy means that your premises are subjected to a high level of noise during more adverse weather conditions.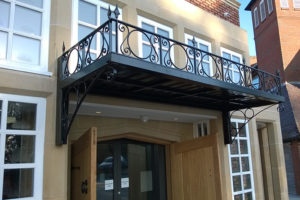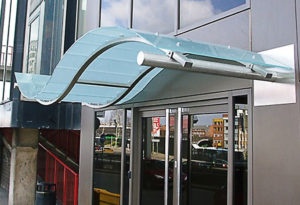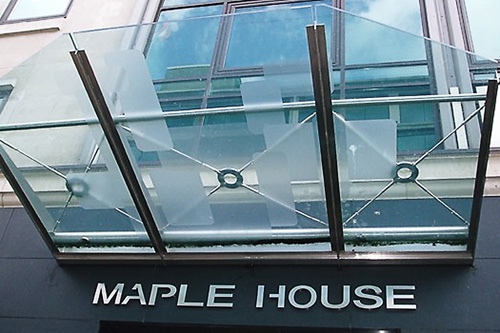 Bespoke Options Available
When deciding to opt for a glass canopy, you may well be under the impression that you have to conform to a particular design. However, there are a number of options available when it comes to installing a glass canopy, and the following is just an example of the different types available.
Glass-Mounted Wall Canopies
Glass canopies can be tailored to your exact specification, and can make for an ideal shelter for employees or guests.
Glass Entrance Canopies
Business looking to make the right kind of impression with prospective customers can look upon a glass entrance canopy for their entrance requirements.
Glass Walkways
Some businesses have larger premises than others, and sometimes this is achieved by merging two separate buildings. A glass walkway is a stylish but effective way of creating a bridge between the two sets of premises.
Stainless Steel Glass Canopy Manufacturer
Birmingham West Midlands UK Supplier
As you can see, there is a slew of benefits to having a glass canopy feature installed within your premises, you just need to ensure that your supplier is a reputable company who understand what is required for such a structure.
Fortunately, Speedfab is a pioneer in the stainless steel glass canopy industry, as manufacturer has worked with many businesses in helping them achieve their own bespoke solution. If you're currently considering a glass canopy, then why not contact Speedfab today for an informal discussion.